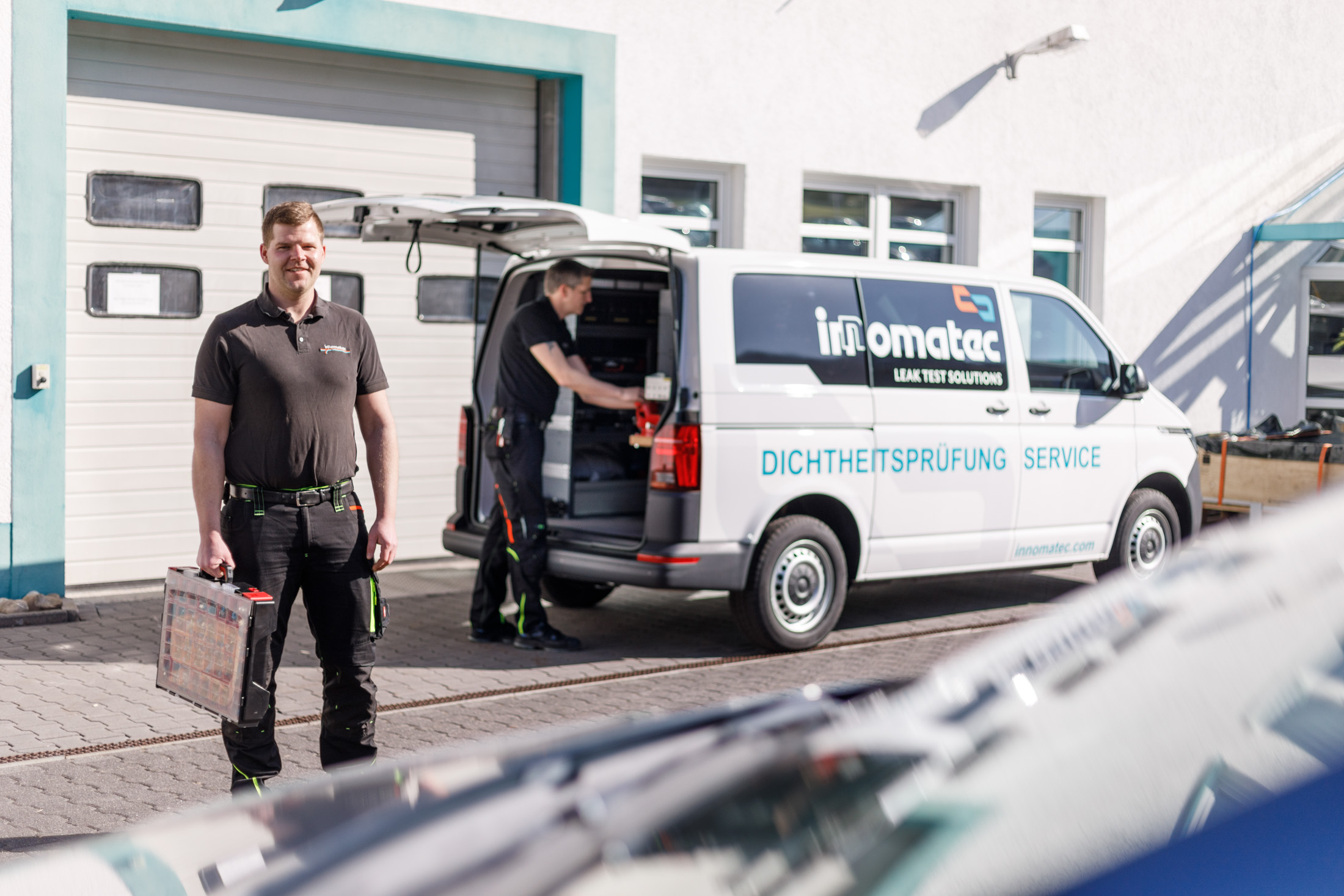 We are here for you!
In case of questions or issues you can reach us during our business hours at the following telephone numbers:
After Sales Leak Test Computer
Telephone: +(49) 6126-959866-888
After Sales Special Plant Engineering
Phone: +(49) 6126 9420-357
Need support outside of our regular working hours?
You can book optional service programs:
24 hours service, 365 days at home and abroad.
Our central location in Germany as well as our proximity to Frankfurt Airport enable us to reach national and international customers quickly.

See our full range of services below.
innomatec Academy:
Learn more about leak testing
The innomatec Academy provides you and your team with the crucial knowledge to set up, perform and optimize leak tests. Topics range from the basics of leak testing to common measurement methods for different applications and practical training with leak test computers. You'll learn how to select the right test method for your application, calculate leak rates, and more. We offer scheduled seminar days or individual group seminars throughout the year, tailored to your specific needs.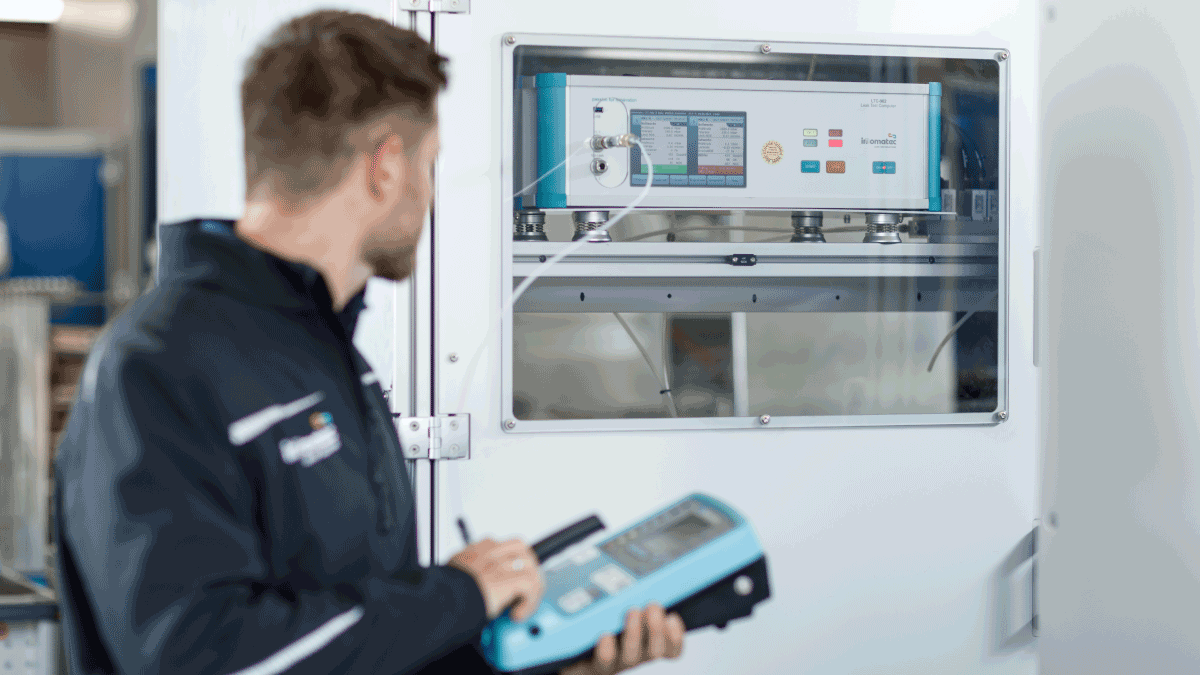 Repair, maintenance, and service
Spare parts according to sample or drawing
Calibration service and repair worldwide and on site
Certified calibration service according to DIN EN ISO/IEC 17025:2005
Installation and commissioning at home and abroad
Quick Connectors
Our connec quick connector portfolio features more than 100 types to efficiently and quickly connect test objects with line systems and measurement technology of any kind. We also design and manufacture custom connects.
Pipes, nozzles, hoses, and all types of cylindrical bodies
Bores, oval, rough and cast surfaces
Threads, flanges, hoses, and connectors
Leakage Tester
We assess your individual test situation and configure your leak tester according to the requirements of the task and offer test measurements and initial sample tests in our laboratory as a service.
Method consulting and measurement data optimization
Certified calibration service and maintenance
Technical support also for third party products
Measuring equipment capability tests
Rental equipment for leak rate simulation
Special machine construction
Manufacture of function and leak test equipment with water, air and trace gases. Development and production of quick connection systems as well as flow and leak test equipment
Certified according to DIN EN ISO 9001:2000
Measurement technology development and manufacturing
Own control cabinet construction and programming
Planning and project engineering of complex automation systems
Our design department is also available for your development needs
Of course, we also supply our customers with individual components on request - you determine the interfaces!
Examples of parts tested by innomatec
ABS-sensors
ABS-valves
aerial motors
aerosol pumps
airbag igniters
aluminium casings
ASR-valves (anti slip)
ball valves
batteries
bearings
belt tensioners
brake cylinders
brake lines
car tyre valves
carburettors
casings
catalytic converters
catheter
central locking systems
Clocks
Coffee machines
compensation reservoirs
compensators
compressor
coupling senders
cylinder heads
diesel injection
Door closing retarders
Drink containers
drives
Electric shavers
Electric tooth brushes
engine blocks
exhaust manifolds
exhaust systems
Micro switches
Filler cartridges
Filler tanks
Filter
Fire extinguishers
Fittings
Flash light
Flow heaters
Flush mounted fittings
Gas cookers
Gas fittings
Gas pressure regulators
Gas pressure springs
Gears
Gear levers
Halogen lamps
Headlights
Heat exchangers
Heating coils
Heating regulators
Hot water boilers
Hydraulic valves
Indicators
Injection ramps
Injection valves
Injector
Lambda oxygen sensor
Light barriers
Lighters
Locking caps
Micro switches
Oral irrigator
Petrol lines
Pipes
Piston
Plastic seals
Oral irrigators
Pneumatic Seat control units
Pneumatic valves
Pumps
Relays
Pipes
Sanitary fittings
Ejector pumps
Mufflers
Switches
Wiper motors
Headlights
Power steering
Sensors
Sprayers
Plug connections
Tanks
Torches
Text markers
Thermometers
Thermos flasks
Thermostats
Toilet flushes
Toilet blocks
Door dampers
Clocks
Concealed fittings
Valve seats
Carburettors
Compressors
Sealing caps
Screw connections
Pre-combustion chambers
Heat exchangers
Kettles
Central locking systems
Cylinder heads