Leak and function testing of packaging

In the packaging industry, leak testing is necessary to prevent product loss, damage, and contamination. Leaks can be caused by a variety of factors, such as defects in the packaging material, improper sealing, or damage during handling. If a leak goes undetected, it can lead to costly product recalls, customer complaints and damage to your company's reputation.
Leak testing is an essential part of the packaging process for many industries. Whether you are packaging liquids, gases, or other products, it is essential for the safety, quality, and integrity of your products that your packaging is leak-proof.
Fortunately, leak testing can help you identify and avoid these problems. By leak testing your packaging, you can ensure that your products are safe, of high quality and meet industry standards. Leak testing can also help you identify and fix problems in your packaging process, resulting in cost savings and efficiency gains.
Don't let leaky packaging affect your products. Contact us today to find out how we can help you choose the best leak testing solution for your packaging needs.
Ensuring the integrity of packaged products with various leak testing methods
The main purpose of packaging is to protect the contents from harmful environmental influences and damage during storage and transport. Packaging plays an important role in ensuring the quality of products from the manufacturer to the consumer. For example, medicines must be packaged according to their nature or shelf life. Modern production facilities automatically check whether the packaging reliably fulfills these requirements.
Leak testing is an essential part of the packaging process for a wide range of industries, including:
Food and beverage: packaging for liquids such as juices, dairy products and soups, and for gases such as carbonated drinks and whipped cream can benefit from leak testing to ensure product safety and quality.
Pharmaceutical products: Packaging for medicines, such as tablets, capsules and liquids, requires leak testing to maintain the purity and potency of the product.
Consumer products: Packaging for a wide range of products, including personal care items, household goods and industrial products, can be leak tested to ensure product safety and quality.
This leak testing is easily done with our equipment. Regardless of whether manual handling, automated conveyor technology, e.g. robot handling, or fully automated production lines are used - with our well-thought-out and modular systems, we can adapt the testing procedure to your needs. Depending on the product and the area of application, you can carry out a random sample/batch inspection or a complete inspection. Very short test cycles can also be expected for large quantities.
Overall, leak testing is an indispensable aspect of the packaging process that ensures the safety, quality and integrity of the packaged products. Through regular leak testing, companies can prevent product loss, damage, and contamination.
Learn more about leak test methods
Below is an example of a system used for leak testing and automation for a packaging application.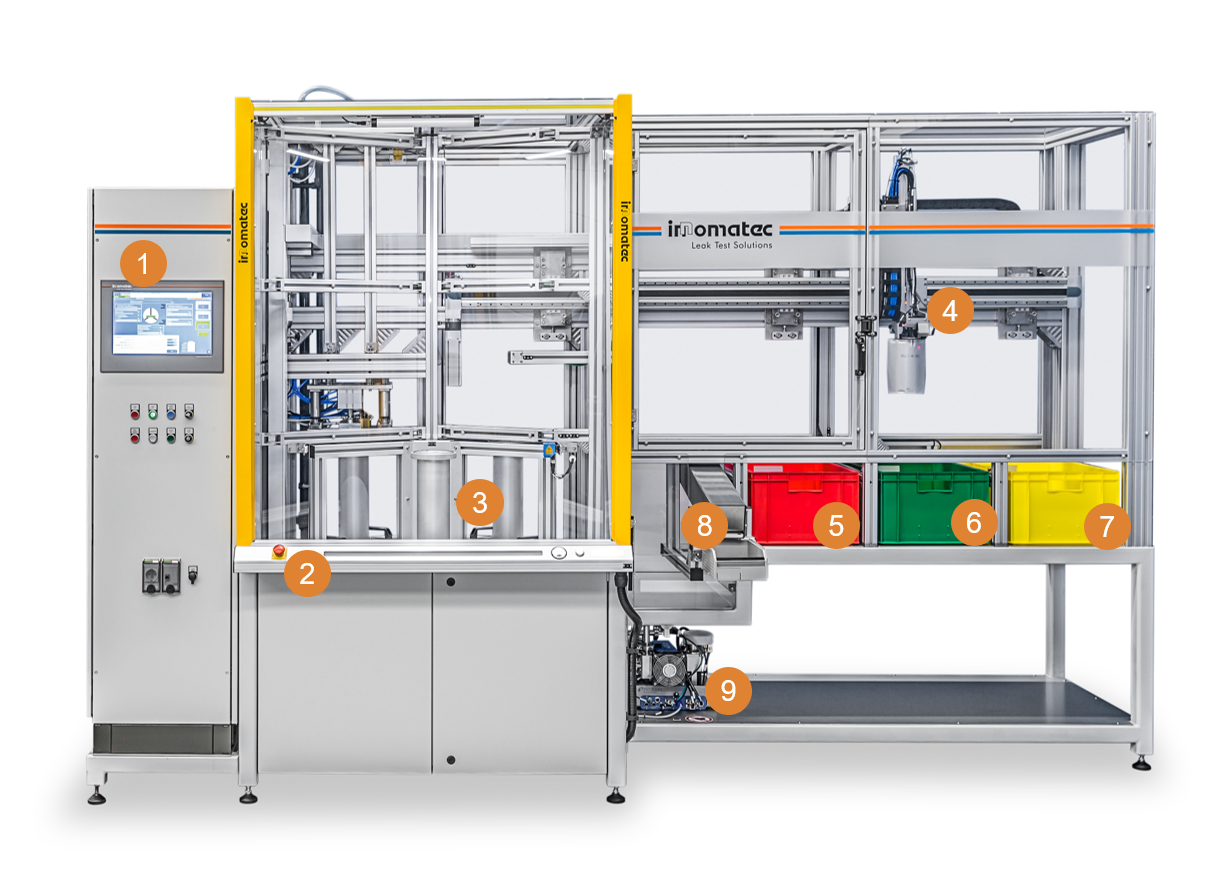 15" touch interface
Ergonomic control panel
3-fold rotary indexing table with interchangeable tools
3-axis handling gantry
NIO component ejector
IO component ejector
Quality control ejector
Tool return
Helium leak detector (helium integral method)
See More on Test Benches
Bag
Blister
Bottles
Container
Food packaging
Membranes
Packaging
Spouts
Find your leak-free packaging solution with our team of experts
Tired of dealing with leaky packaging and the problems that come with it? Rely on our decades of knowledge and proven test rigs to help you find the perfect leak detection solution. Our expert leak testing team is ready to work with you to ensure the safety and integrity of your products.
Don't wait any longer to protect your products and reputation - contact us today to learn more about our leak detection services for the packaging industry. We offer a range of leak testing methods and equipment, including pressure, vacuum and helium leak testing.
Take the first step towards greater reliability - contact us now to schedule a consultation and find out how we can help. Let our expertise and proven track record work for you to find the perfect leak detection solution.