DF-10 Leak Simulator
Use the DF-10 Leak Simulator to ensure that your leak testing system is reliable. The compact DF-10 combines simple operation with well-known reliability. The device is suitable for universal use in all industrial environments and simulates leaks in flow, independent of pressure and temperature influences.

Technical Specifications
Housing (BxHxT):
114 x 43,3 x 67,8 mm
Weight
0,4 kg
Power Supply:
AA battery or Micro-USB cable (included)
Protektion:
IP 50
Test Medium:
Luft, N2
Operating Temperature Rang:
0-50° C
Conditions:
0-95% rf, not condensing
DF-10 Models
DF-10/50
Measuring Range: 0,6-50 cc/min
Accuracy: ± 1,0 % of full scale
DF-10/500
Measuring Range: 0,6-500 cc/min
Accuracy: ± 1,0 % of full scale

Other options available upon request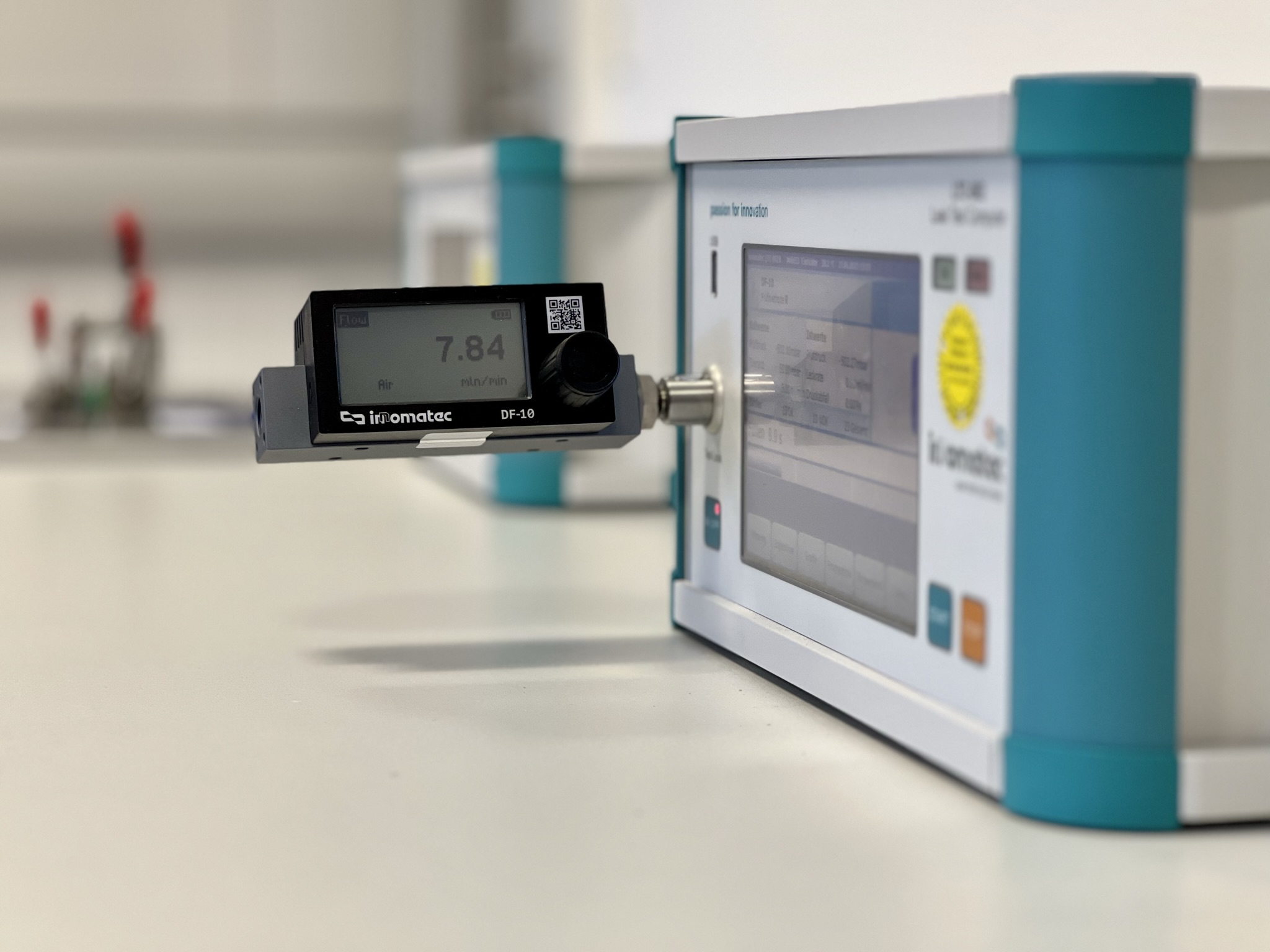 Use as a leak instrument calibrator and leak simulator
High accuracy and repeatability

Touchscreen display

Plugs directly into external leak port of instrument

Compact design

Powered with standard AA battery

Intuitive user interface
Product Overview
Measures real mass flow, independent of changes in pressure or temperature

Plugs directly into external leak port on all innomatec, and CTS instruments, and can be plugged or connected to most competitor instruments (adapters/couplers may vary)

Can be used with negative and positive pressure

High-speed 32 bit processor

Operating Pressure: -0,8 to 10 barg (-11.6 to 145 psig)

System Leak rate: 1 x 10-6 mbar l/s He

Touchscreen display: 56 x 28 mm (2.2 x 0.95 in)

Precision valve

Backlight enabled with input from external

Micro-USB power supply

Variable display orientation allows operation in any position

Password protection
Display
Icon menu screen for easy navigation

Automatic display adjustment

Wide range of measurement units for both normal flow, and standard flow, and other units
Further detailed information can be found on the corresponding data sheet.