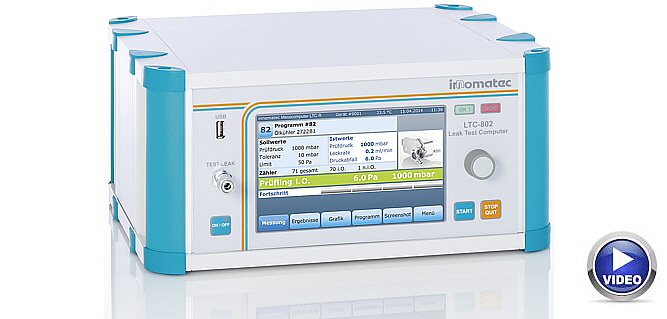 Leak measurement computer / leak tester
LTC-802
The versatile allrounder is easy to use and works quickly,
safely and with high precision. The LTC-802 sets new standards in
industrial leak testing and fl ow measurement.
EUROGUSS 2016:
Productvideo innomatec Test und Sonderanlagen GmbH -
Leak Tester LTC-802 & LTC-902
A specialist for all situations
Differential pressure method
Pressure increase method
Flow method
Mass fl ow method
Dosing method
Volume measurements
It is suitable for all types of functional leakages:
Test times from milliseconds to minutes
Test volumes of a few millilitres up to more than 100 litres
Also in continuous operation of serial production
The compact LTC-802 is available in different designs and can
easily be adapted to individual or fi eld-specifi c requirements
The LTC-802 has all common interfaces thanks to the hybrid
concept with full PC-functionality. Therefore, it can be integrated
easily in different networks and variably equipped with peripherals:
LAN/WiFi,
Profi bus
Profi net
Direct PLC control
Printer output
As a standard, the following connections are available for data
exchange with PC-peripherals such as scanners, marking units
and RFID readers:
Digital inputs and outputs
USB
RS232
HDMI
Furthermore, the leakage calibrator AF-1000 can be controlled
automatically.
Leak-measurement computer for industrial applications
7" Touchscreen and one-button operation
State-of-the-art measuring pneumatics for extremely short test times
Full PC-functionality
Submenu with intuitive operation
All measuring data at a glance
Presentation of measuring curve with zoom functions
Parameter sets for 200 programs
Traceability of every parameter change
Display of customer product photos for each parameter set
External parameter management via Excel
External parameter management and result storage via server
Web service
Result displayed as differential pressure or fl ow
Storage of the last 1 million measuring results
Storage of the last 50 measuring graphics
Statistics function and measurement data management
Screen shot function also for individual documentation
International measurement units and languages free selectable
Extra features: subsequent tests, copying, series leak,
continuous testing as series standard
Automatic parameter determination
Automatic offset correction
Interfaces for PLC, printer, mouse, keyboard, scanner
3 x USB-interfaces, HDMI interface
Ethernet-interface, RS-232 interface
Programmable input/output allocation for PLC interface
Software update, language modules via USB-stick
Small programmable machine control fl ow
Devices for all pressure and fl ow measurements
Optional:
Automatic temperature compensation
Volume and storage pressure measurement
Direct data exchange with leakage calibrator AF-1000
Toolbar with variants for the measurin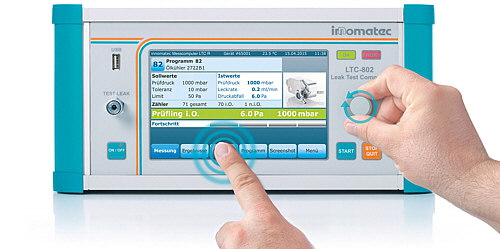 Testing made better and easier
The LTC-802 supports different operating options in order to provide maximum comfort for any requirement:
Touchscreen (resistive) for controlling with your fi ngers (even with gloves)
Classic rotary/push-button control
(Wireless) mouse operation
Control per smartphone / tablet (via browser and WiFi)The menu complies with the latest ergonomic requirements and can be controlled easily and intuitively.
Furthermore, upcoming test tasks are simplifi ed by:
Graphic displays
Results table
Automatic storage
User administration
Diagnosis programs