Leak testers / PC software
The perfect complement to innomatec's leak measurement computer
Due to years of further development, the standard test software already contains almost all performance requirements of the market. In addition we offer cost-effective solutions tailored to the specific application.
From interpreting the measurement data, through statistics and right up to controlling complex test benches, innomatec offers a comprehensive range of services:
Simple and clear interfaces with Windows technology
Status display
Threshold values displayed
Switching states of inputs and outputs displayed
Curve progression displayed with partitioning of test phases
Entry and saving of all test parameters arranged by test piece name
Direct display of the measurement results for the last six pieces
All measurement data saved to a database
Can be further processed in spreadsheets such as Excel
up to 12 pneumatic leak measurement modules (LTP) can be connected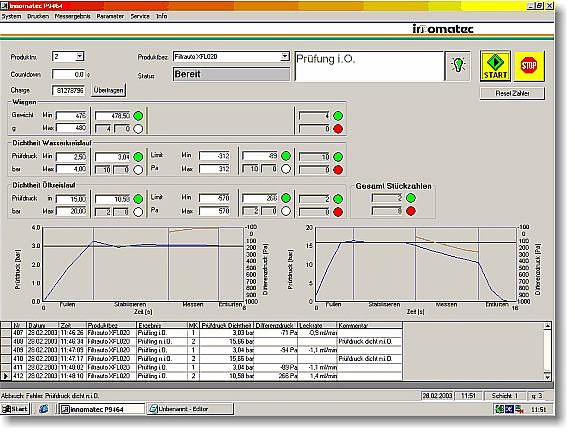 innomatec software provides an overview of all current information at a glance. Test results are stamped with the respective time and date.

Test results are simultaneously saved to a database and the last six items are displayed directly. The test parameters can be read with the test software or also adjusted. Parameter sets can be allocated to a product description as these can be entered and saved under each programme number.

The pneumatic leak measurement modules are connected to the PC via a profile bus interface.