Test benches / underwater visual inspection
For specific test pieces, particularly hot welded parts, an underwater visual inspection is often the most economical way to test for leaks. Many companies also appreciate our experience when constructing dip tanks, flooding systems and combinations of pressure testing with a leak tester and an underwater visual inspection.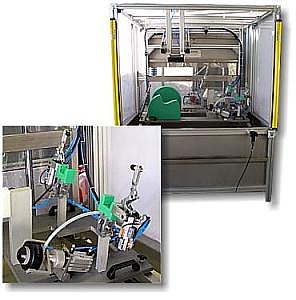 Example I
Underwater visual inspection unit for high pressure cleaning tanks
Light barrier protection device
Pneumatic sealing tool with connec ® Quick Connection Systems and floating bearing
Quick change system for product-specific tool
Operator confirmation of 'test dwell time' by pressing a manual button
Ergonomic layout of test piece mounting
Automatic test piece adaption with part recognition
Control via Siemens S7/300.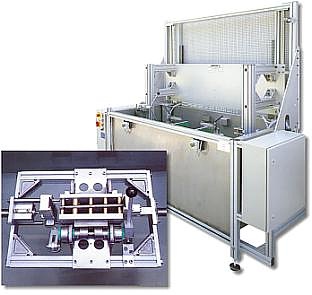 Example II
A number of different test pieces are tested for leaks with this underwater visual inspection device. Sealing and clamping tools are therefore designed to be interchanged. The whole mounting is set so that it can be rotated.
Simple operation, whether manually or automatic
Ergonomic design
Simple and functional design
High degree of processing quality, all parts from corrosive-free materials
Control with PLC
Electrical inputs and outputs for clamping devices
Comprehensive range of accessories
A comprehensive range of accessories is available for this: Lighting, heating, rotatable tables, additional inputs and outputs for clamping devices, filter systems, burst protection cover of Makrolon or armoured glass, water level regulation and leak measurement computer.